Mexican Cheesecake
Mexican Cheesecake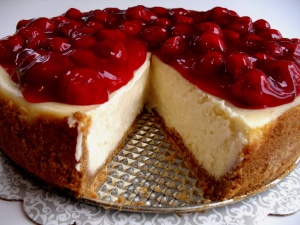 I have adapted my favorite cheesecake recipe using Mexican ingredients.
3 hours Yield: Makes about 12 servings
Ingredients
Crust
2 cups (475 ml) of Graham cracker crumbs (from a little less than 2 packages Graham crackers

2 Tbsp sugar

Pinch salt

5 Tbsp (70 g) unsalted butter (if using salted butter, omit the pinch of salt), melted
Filling
2 pounds cream cheese (900 g), room temperature

1 1/3 cup granulated sugar (270 g)

Pinch of salt

2 teaspoons vanilla

4 large eggs

2/3 cup crema (160 ml)

2/3 cup heavy whipping cream (160 ml)
Toppings
2 cups crema (475 ml)

1/3 cup powdered sugar (35 g)

1 teaspoon vanilla

12 ounces (340 g) fresh strawberries
Special Equipment Required
9-inch, 2 3/4-inch high springform pan

Mixer, blender or food processor

Heavy-duty, 18-inch wide aluminum foil

A large, high-sided roasting pan
Instructions

The Crust
Make your springform pan leakproof. Can't say it enough. Even if the pan claims to be leakproof.  Cut 3 large pieces of tin foil to completely cover your pan. Lay each piece of foil flat on a table and put the springform pan in the center. On the outside of the pan, gently fold up the tinfoil to cover the sides. Gently. No holes. Leakproof.

Oven to 350°F, with rack in lower third of oven.

Crush graham crackers with a masher, blender or processor until finely ground. Stir in the salt sugar and butter. Put the mixture in the pan and press down firmly and evenly on the bottom of the pan.

Put in the oven and bake for 10 minutes – remove and cool while you make the filling. (Also turn down the oven to 325°F.)
The Filling
Cream the creamcheese. This is easiest to do if the cheese is room temperature. Use a blender, food processor or mixer. Do this for at least 4 minutes or until smooth. Scrape and mix.

One at a time add the sugar, salt and vanilla, beating 4 minutes between ingredients. Scrape down the sides of the bowl with each ingredient. Add the eggs, one at a time, beating one minute after each addition.

Add the crema and the whipping cream. Scrape!Pour the batter into the pan.


Put the foil-lined springform pan into the roaster pan and fill the roaster pan with boiling water. It should reach 1/2 way up the springform pan's outside height.

Bake for 1 1/2 hour.Turn the oven off and wedge open the oven door with a utensil so the oven cools down slowly and prevents the cheesecake from cracking.Leave the cake in the pan and cover the to with foil. Refrigerate for 4 hours or better yet, overnight
The Topping
For the topping, mix the crema powdered sugar and vanilla, until smooth.Add the topping and decorate with strawberries or other creation!